Day 04: Jaipur - Jodhpur
After breakfast drive to Amer Fort and city tour of Jaipur. Enjoy Elephant Back ascent to the Fort.

AMBER FORT PALACE -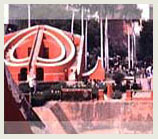 Amber is the classic romantic Rajasthani fort palace. Its construction was started by Man Singh in 1592, and completed by his descendent Jai Singh. It's forbidding exterior belies an inner paradise where a beautiful fusion of Mughal and Hindu styles finds it's ultimate expression.

Continue city sightseeing.

CITY PALACE - A delightful blend of Mughal and traditional Rajasthani architecture, the City Palace sprawls over one-seventh of the area in the walled city. It houses the Chandra Mahal, Shri Govind Dev Temple and the City Palace Museum.

JANTAR MANTAR - This is the largest and the best preserved of the five observatories built by Jai Singh II in different parts of the country. This observatory consisting of outsized astronomical instruments is still in use.

HAWA MAHAL - The ornamental facade of this "Palace of Winds" is a prominent landmark in Jaipur. Its five-storey structure of sandstone plastered pink encrusted with fine trelliswork and elaborate balconies. The palace has 953 niches and windows. Built in 1799 by Pratap Singh, the Mahal was a royal grandstand for the palace women.


Afternoon drive to Jodhpur(By Road 280 km/06 hrs). On arrival check-in to Hotel for overnight stay .

Day 05: Jodhpur - Udaipur (By Road 250km/05hrs)
Breakfast will be at hotel. Proceed to Jodhpur. Reach Jodhpur and check in hotel.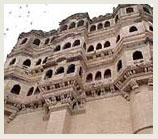 Set at the edge of the THAR Desert, the imperial city of Jodhpur echoes with tales of antiquity in the emptiness of the desert. Once the capital of the Marwar state, it was founded in 1459 AD by Rao Jodha-chief of the RATHORE clan of Rajputs who claimed to be descendants of Rama - the epic hero of the RAMAYANA. The massive 15th century AD Mehrangarh Fort looms on the top of a rocky hill, soaring 125 Mts. Above the plains. The city is encompassed by a high wall -10 km long with 8 gates and innumerable bastions.

In the Morning visit Mehrangarh Fort (1459 AD) by Rao Jodha who considered themselves the descendents of Lord Rama. In this palace you would see different miniature paintings & cradle room. After this you would visit Jaswant Thada Memorial.
Afternoon drive to Udaipur (By Road 250km/05hrs) enroute visiting Ranakpur Temples. On arrival in Udaipur check-in at Hotel for overnight stay.

Day 06: Udaipur Departure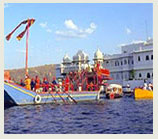 Proceed for sightseeing tour of Udaipur in the morning, stopping first at City Palace. Here you will marvel at rooms with mirrored walls and ivory doors, colored glass windows and inlaid marble balconies and the Peacock Courtyard.

Proceed for Evening Motor launch cruise on the placid waters of Lake Pichola. From the boat you will be able to view the city of Udaipur as it rises majestically above the lake in the middle of the Rajasthan desert. Also visit the Jag Mandir Palace - the other island palace in the middle of the lake. Spend some time at the Jag Mandir Palace.

Visit the 300-year-old Jagdish Temple and the Royal Cenotaphs of the Rajput kings.

Late evening transfer for onward flight